The difference between wedding dress care services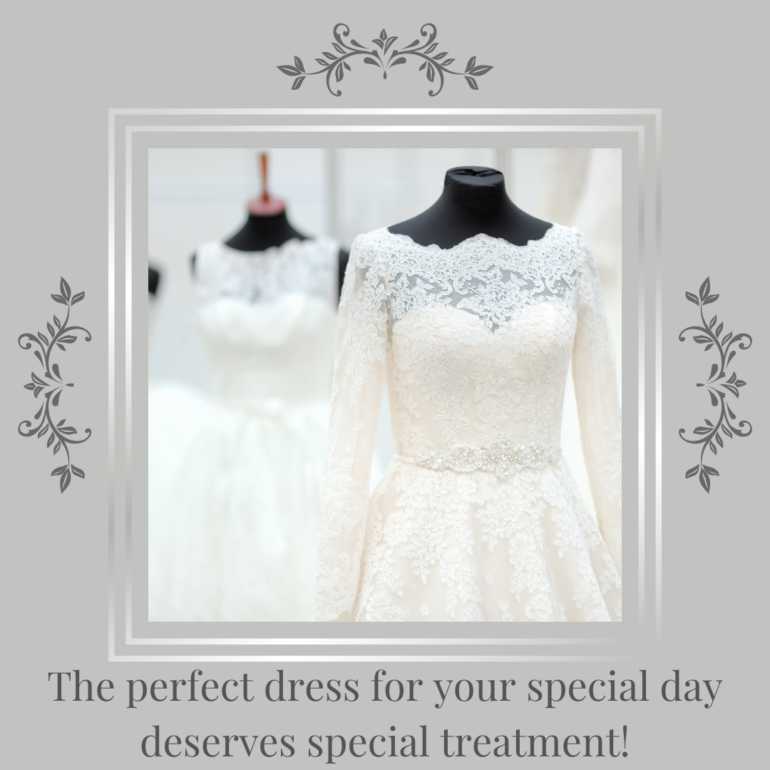 D/FW Wedding Dress Preservation, Cleaning, or Dry Cleaning: What's the difference?
Whether or not you've celebrated your big day yet, we're glad to hear you're planning to protect your dress with professional help in North Texas! Whether you're tying the knot in Dallas, Ft. Worth, Arlington, or on some faraway mountain, ranch, or beach, it's likely that your dress won't manage to dodge, sand, crumbs, or makeup. If you've already wedded, you may worry that you've done something irreparable or damaging to your gown and need help fixing it. 
Whatever the case is, Pinstripes Bridal is D/FW's certified source of relaxation, because we remove stains, tears, and all worries from our clients and their gowns! Whether you're located in Highland Park, Rivercrest, near TCU, or Westover or Southlake, we also provide door-to-door service and free quotes for almost every job.   
Call us today to get the process started, and read on to learn more about dry cleaning a gown, preserving it, and all of your options. Pinstripes has served brides all across Lake Worth, Plano, Allen, Frisco, and Benbrook, and we'll make it to you too! Call us at 877-874-7377 today.
Dry cleaning isn't the same thing as professional wedding gown cleaning in Ft. Worth
When you professionally clean a wedding gown in Grapevine, Farmers Branch, Irving, and beyond, specialists should target both visible and invisible stains. A dry cleaning service will likely only identify visible stains from things like food and dirt. A professional gown cleaner will also be able to find and remove invisible stains from sugars and alcohol, which will brown as time passes and they're exposed to oxygen. 
Plus, an expert seamstress can repair lace, beads, and much more. If you're professionally cleaning your gown in D/FW and have sustained minor damage during that rowdy wedding dance party, make sure your cleaner can also make repairs. 
After a cleaner has done their due diligence with a gown, they should perform a final inspection to make sure every inch of the dress is like-new again. Additionally, when it comes to your options, make sure your cleaner offers MuseumCare™ preservation, which will ensure that you can pass down a dress to future brides without fear of fabric getting warped or contaminated. 
Pinstripes provides wedding dress cleaning, preservation, and repair to all of Dallas/Ft. Worth!
Your photos and wedding bands are important ways to remember your wedding day, but what about your gown? Do you want to forget about it, only for too much time to pass to properly repair it for the next generation? No! See what our most loyal clients on WeddingWire and TheKnot are raving about. Take action today, and schedule a gown cleaning and/or preservation with Pinstripes at 877-874-7377.