Is DIY Gown Cleaning an option?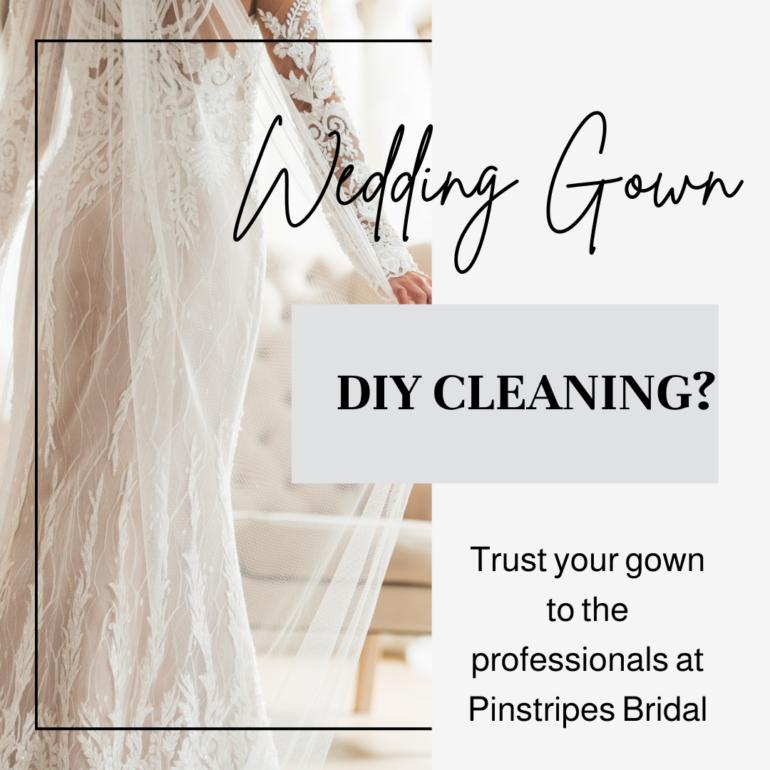 Pinstripes Bridal's Wedding Gown Stain Removal Guide for Dallas/Ft. Worth
Whether you wed nearby in Plano, Allen, downtown Fort Worth, or near TCU or SMU, or tied the knot at some faraway destination, you might have noticed an annoying stain or tear in your wedding gown once the honeymoon wrapped up. Whether that's already happened or you still expect it to, you have options in what to do about it. 
North Texas has no shortage of dry cleaners, DIY options, and professional wedding gown cleaners all across Southlake, Highland Park, and Westover/Rivercrest, so read on to find out the difference and hopefully make the best decision for your perfect wedding day dress. 
D/FW Wedding Dress Cleaning Options, from worst to best:
Do-It-Yourself: DIY is great for saving money on wedding decorations, catering, and much more, but it falls short when it comes to your wedding gown, through no fault of your own! You see, while you're able to get light stains out of your dress, or medium stains with the right material, you won't even be able to see the invisible stains. Invisible stains can appear years or decades later, and then it may be too late to perfectly remove them.  

Dry Cleaners: While dry cleaners do a great job with the tuxedos for the guys, they're not as well equipped for wedding gowns. Additionally, dry cleaners don't offer gown repair, pickup, or dropoff when the job is done. Garland, Arlington, and Aledo gown cleaners may very well offer all of these options. 

North Texas Wedding Dress Cleaning: A professional dress cleaner is valuable in more ways than one, and if you can find one who offers delivery (like Pinstripes Bridal of Fort Worth), you can save in more ways than one. 
A professional gown cleaner can identify and clean both types of stains, repair tears or issues with gowns, and even preserve a dress for decades to come with MuseumCare™ technology. 
When picking a wedding gown cleaner, trust the Assoc. of Wedding Gown Specialists Seal
Great reviews and awards on Yelp, TheKnot, and WeddingWire are all great, but Pinstripes Bridal offers much more than that, because we're an AWGS-certified option, meaning we've been approved to the highest standards of gown care for clients all around Irving, Colleyville, Benbrook, and Grapevine. 
Call Pinstripes Bridal of Fort Worth and Dallas today at (877) 874-7377. We offer free consultations, delivery and pickup, and a wide variety of other services to ensure your wedding gown will look as good the day you first picked it out.