Certified Wedding Gown Preservation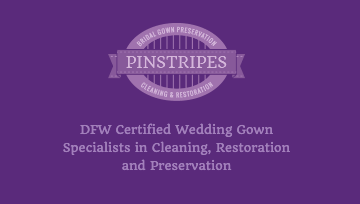 AWGS Certified Wedding Gown Preservation in Dallas/Ft. Worth by Pinstripes Bridal
Does certification make a difference when it comes to preserving your wedding gown? YES. If you're planning to marry or are returning to North Texas after the honeymoon, Pinstripes Bridal is your one-stop-shop for all things wedding dress cleaning and preservation, because we do it as part of the same package.
Preserving your wedding gown in D/FW means being able to display it long after the wedding bells have stopped ringing, because our preservation processes use the MuseumCare™ process, and are backed up by great reviews from WeddingWire and TheKnot too. If you ever move or have a family member wear your dress down the road, another Association of Wedding Gown Specialists member can preserve the dress again.
So call Pinstripes Bridal at (877) 874-7377, no matter which part of your wedding you're planning or have just celebrated, because we work with all brides at any stage of their schedule. Pinstripes also provides pickup and delivery services, meaning we can provide preservation all across Clearfork, Highland Park, Westover, Allen/Plano, Downtown Ft. Worth/Dallas, and Southlake, just to name a few.
Preserving your wedding dress means maintaining size, proportions, and coloring too!
Preserving your wedding gown means getting the best of Pinstripes' multi-step cleaning and preservation process. We start with a free consultation, where our experts can examine your gown and ensure that visible stains from coffee, crumbs, or sand, and invisible stains from alcohol or sugars won't damage the delicate fabrics of your gown, especially over time.
Then, when your gown is properly cleaned, we'll encase the dress in a muslin covering that will keep it safe for years to come, while still allowing the necessary airflow to reach the gown's material. Throughout the process too, we ensure that the most delicate of lace and beads are protected.
Finally, when it comes time to look at your dress, you're always able to open the case and use our provided pair of gloves to touch and examine the gown. When you'd like to remove the dress from its preserved container altogether, you can always return it to us, or one of our partners across the country, for a discounted restoration.
Pinstripes Bridal provides one-of-a-kind wedding gown preservation in Grand Prairie, Benbrook, and Aledo/Weatherford, and no matter what corner of the metroplex you're located, we'll provide the very same for you, and to your satisfaction.
North Texas Door-to-Door Wedding Gown Preservation by Kite's Bridal
Call Pinstripes Bridal today at (877) 874-7377 to schedule your gown preservation and consultation. When you're looking for wedding dress preservation near Grapevine, Farmers Branch, Hurst/Euless, Cedar Hill, or around any of D/FW's collegiate neighborhoods like TCU or SMU, Pinstripes is standing by to help, and show you what all the fuss is about.