Why just clean your wedding gown?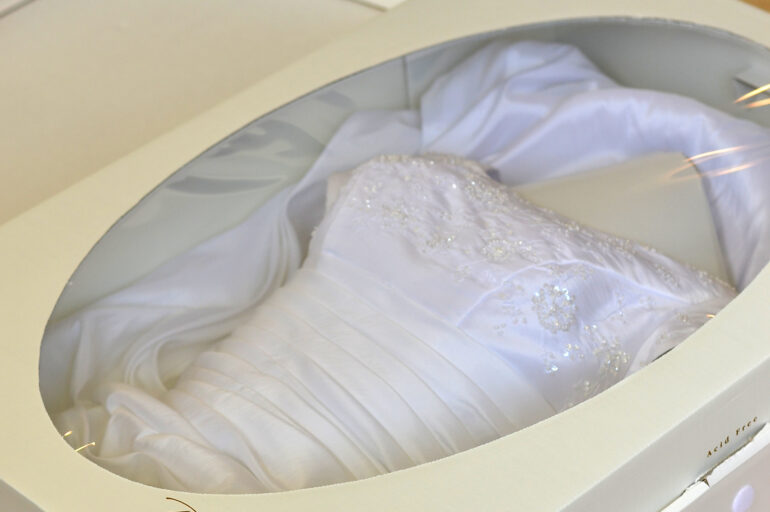 Why clean your wedding gown in Ft. Worth when you can clean AND preserve it?
After the photos and your wedding bands, your wedding gown is one of the most important keepsakes from your wedding day. On top of that, your gown is the only keepsake you can pass down to future generations, so why not go the extra mile to protect such an important facet of your wedding day?
Preserving your wedding dress with Pinstripes Bridal of D/FW is one of the smartest decisions you can make before your special day, and we've helped brides for decades ensure that their treasured gowns are protected for generations to come. Pinstripes can clean and preserve dresses from snowy weddings, beach weddings, and much more. 
Pinstripes Bridal is the only Association of Gown Care Specialists member in the greater Ft. Worth area, including Weatherford, Aledo, Benbrook, White Settlement, Westover Hills, and the Stockyards. When you need the best possible care, go with the best possible option. Call Pinstripes today at (877) 874-7377 and see why we're a favorite on TheKnot and WeddingWire. 
Cleaning and Preserving Wedding Dresses from winter or beach destination weddings
Fort Worth, Arlington, Richland Hills, and Grapevine have plenty of beautiful wedding venues, but if you plan to marry elsewhere, Pinstripes can help either way. No matter where you tie the knot, there will be cake, coffee, and crumbs galore, and cleaning those can be incredibly important to do. 
As part of your Dallas/Fort Worth wedding gown preservation process, Pinstripes will address visible stains and invisible stains, which both can lead to long term damage if left unaddressed. Then, Pinstripes uses MuseumCare™ grade preservation processes to ensure your newly cleaned dress will remain in such condition for decades to come. 
Your dress will be preserved in a casing that allows proper airflow, while at the same time protecting your fabrics and delicate facets. With our muslin cover, you'll be able to visually see your dress whenever you so choose, and should you wish to remove it from the covering, we can always reinstall it. 
If there will be snow at your wedding, trust Pinstripes to do the cleaning and preservation!
Pinstripes Bridal has been a favorite for brides all across North Texas, including Allen, Plano, Frisco, Burleson, and Cleburne too. Whether it's snow, sand, coffee, chocolate, or wine, Pinstripes can clean and preserve your wedding gown with impeccable results. 
Call us as soon as possible at (877) 874-7377 to schedule your consultation, and to ensure that we're prepared to receive your wedding gown as soon as possible after the honeymoon is over. We're door-to-door and carbon neutral, giving you the best possible all-around results. Whether you live in Ft. Worth, or around Haltom City, Pantego, Grand Prairie, Dallas, or Farmer's Branch, Pinstripes is here to preserve your most important keepsake.