Wedding dress cleaning and preservation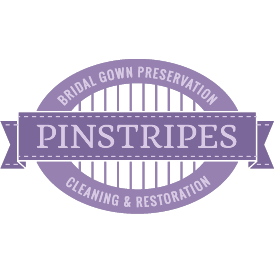 Is there a difference between wedding dress cleaning and gown preservation? YES.
Preserving your wedding gown after your big day is so much more important than simply cleaning it, and can mean the difference between your dress being passed down to your daughters or granddaughters, or never being seen again.
Whether or not you tie the knot in Dallas/Ft. Worth, Fort Worth's Pinstripes Bridal should be your pick for getting your gown cleaned AND preserved. We serve the entire metroplex and provide everything from pickup to drop-off. Even if you get married on some distant beach, keep your dress as clean as possible and then bring it back to us!
Pinstripes is Fort Worth's only Association of Gown Care Specialists member, which means you have access to the best preservation practices available, and can access those should you ever move away, so long as there's another association member nearby. Call Pinstripes at 877-874-7377, whether you're located in Westover, Aledo, Ridglea, Benbrook, Highland Park, Plano, Allen, or Grand Prairie.
Door-to-Door Wedding Gown Preservation by Pinstripes Bridal of North Texas
Whether it's coffee, chocolate, or sugar, there are any number of staining items that can land on your wedding dress during your wedding day. We've seen it all and more! Even better, we can see what you can't, and that includes stains that can appear years down the road and look worse than what's already there, unless you take action today.
Our cleaning process expertly removes sugar stains and stubborn food stains from just about any dress, and without causing water damage or damaging the most delicate parts of your gown. Once we've examined and cleaned your gown, we can preserve it with our MuseumCare™ guarantee. When your gown is preserved, we store it so that you can keep it virtually forever, or at least until your daughter or granddaughter might wear it.
Call us at 877-874-7377 with any questions at all. We find that early communication is best, which is why our consultations are free, whether you're hailing from the Fort Worth area or the Dallas metroplex. We've worked with clients in Allen and Plano, not to mention Frisco, Burleson, and Cleburne too.
Knot and WeddingWire Awarded Fort Worth/Dallas Wedding Dress Cleaning and Preservation by Pinstripes
Did we mention coffee and chocolate? Well what about sand from the beach, crumbs from cake, or dust from the dance floor? We can clean it all like it never happened. When we preserve your wedding gown, it means setting you up with a custom muslin cover, which will allow your gown the proper airflow over the years, and even allow you to examine it when you want.
When you call 877-874-7377, we'll take you through the entire state-of-the-art process and ensure that your gown cleaning and/or preservation is exactly what you're looking for. And, if you need gown restoration for an older piece of clothing, we provide that service too! Just give us a call and we'll go from there.