What to do when stains appear way after the big day?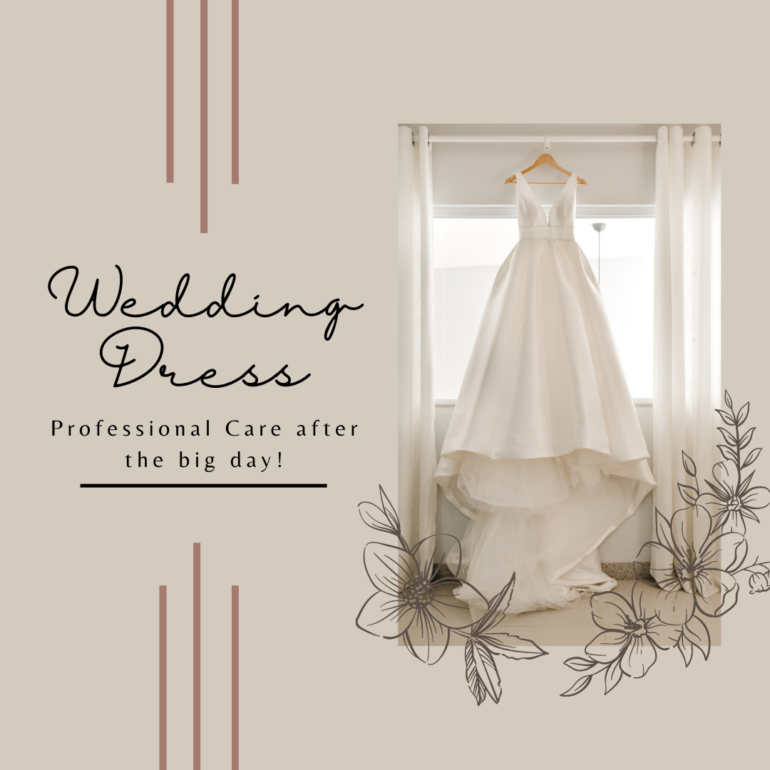 When it comes to stains in your Wedding Gown in Dallas/Ft Worth, it's not how but when!
Did you know that even if your wedding dress looks immaculate when your big day is over, stains can still appear later on? But let's be honest, when it comes to weddings in Fort Worth, Arlington, and Dallas, no bride avoids having fun. And having fun can lead to devastating effects on your precious wedding gown.
Not to worry! While dry cleaners or rented kits might not get the job done, a professional and AWGS-certified shop can. But when it comes to hiring a professional gown cleaning service near Westover, Highland Park, Southlake, Rivercrest, or TCU, you need to be careful of time. That means don't put this off any longer, and start your gown cleaning service today!
Pinstripes Bridal is Fort Worth's choice for Association of Wedding Gown Specialists service, and that included pickup and delivery too. Whether you're down the road near White Settlement or Camp Bowie, or further away in Allen, Plano, or Frisco, Pinstripes can get the process started when you phone (877) 874-7377.
If too much time passes, your gown cleaning could turn into a restoration, so don't wait.
Cleaning a wedding gown, especially right after a wedding, is the way to ensure the dress is pristine and ready for proper storage. Cleaning wedding gowns in Fort Worth starts with a visual inspection and quote, then that's followed by stain removal, identification of invisible stains, and repairs of delicate lace or beads that could be damaged.
A multi-step gown cleaning service also ends with a final inspection. Ask about MuseumCare™ too! If your gown cleaner provides AWGS-certified service, they should also be able to preserve your gown as part of their preservation package. A MuseumCare™ preservation allows proper storage of your wedding gown, which means being able to pass it down to future generations without fearing it will change in shape.
Aledo Wedding Gown Cleaning and Preservation or just Gown Cleaning? You decide!
While wedding bands and photos are the most common keepsakes from one's wedding day, brides always forget that they get a third: their gown! Why forget the importance of your wedding dress from the biggest day of your life? If you're marrying in, or returning to, Benbrook, HEB, Richland Hills, Grapevine, Irving, or Farmers Branch, then Pinstripes Bridal is the best solution for you.
Call Pinstripes Bridal of D/FW at (877) 874-7377 for a free consultation and to inquire about our pickup and delivery radius. We're highly rated on both WeddingWire and TheKnot, so see what Cowtown has to rave about!