Wedding Gown Cleaning after a Beach Wedding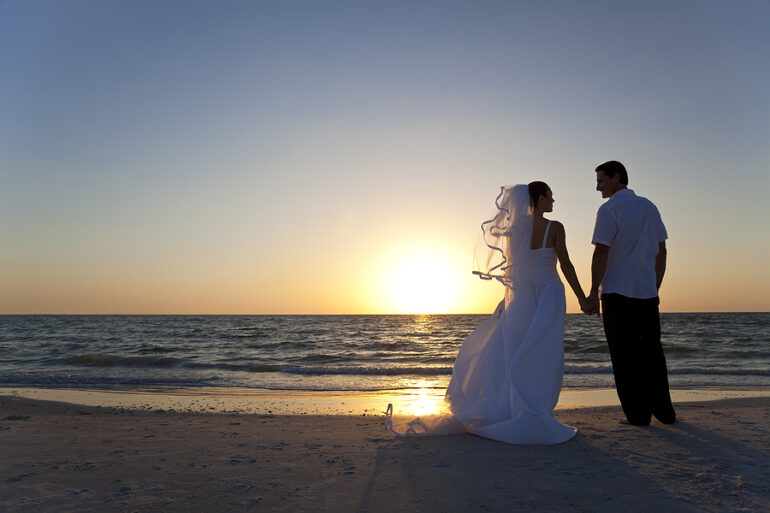 Are you wondering how you will get your wedding dress clean after a destination wedding?
Summer weddings (and especially destination weddings that occur outside of the DFW metroplex) can be gorgeous, which is why they're so popular amongst North Texas brides. Unfortunately, there are added challenges when you tie the knot on the beach, for instance.
If you're considering a destination wedding, you might be wondering how to keep your gown clean so that when you return home to Fort Worth, Arlington, or Dallas, you'll be able to keep it for years or generations to come. Instead, consider an AWGS-certified wedding gown cleaning or repair by Kite's Bridal of Fort Worth!
When it comes to sand, dirt, drinks, and dessert stains, Kite's has seen it all. We're a local favorite around Ridglea, Highland Park, Denton, Westover, Southlake, and TCU, not to mention a national favorite on TheKnot and WeddingWire. Call us for a free consultation at (877) 874-7377 no matter where you're located in North Texas.
If you can't keep your dress clean, get it professionally cleaned! (Not dry cleaned.)
After your wedding rings and photos, your gown will be your third keepsake from your wedding day, so why not give it as much attention as you do the rings and pics? Proper cleaning, repair, and preservation of wedding gowns, all of which Kite's is able to do, can mean the difference when your daughter or granddaughter wishes to wear your dress.
Our cleaning process begins with your free consultation, where we do our best to examine the dress, notate delicate parts like beads or lace, and provide you with a quote. We'll address stains and dirt that are visible, especially for gowns that have seen it all on the beach or the dance floor. Then, Kite's specialists will address what are known as invisible stains, caused by alcohols and sugars, which appear years later if not cleaned now.
Then, if your gown requires repairs, Kite's is able to address snags, tears, and rips too. If you want an extra measure of protection too, we offer complete preservation, which covers your gown for decades to come, with our MuseumCare™ guarantee. Our preservation process is covered by other Association of Wedding Gown Specialist members, so even if you move later in life, other shops will be able to assist with continued care.
Dallas and Fort Worth Wedding Dress Door-to-door Service by Kite's Bridal
When you preserve your wedding dress with Pinstripes, it means protecting your gown for generations to come. See what brides all across Pantego, Carrollton, Richland Hills, Grand Prairie, White Settlement, DeSoto, Cedar Hill, Oak Cliff, Hurst/Euless/Bedford, and Grapevine are raving about!
We provide Lake Worth, Irving, Benbrook, Farmers Branch, Frisco, Allen, Plano, Weatherford, and Burleson with pickup and dropoff services, just call (877) 874-7377 to get started.