Damaged or Dirty Gown after an Outdoor Wedding?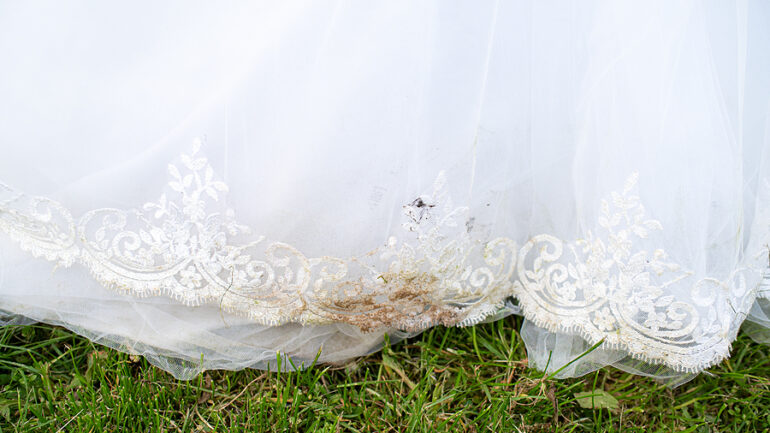 Damaged or Dirty Wedding Gown after an outdoor or destination ceremony? Call Pinstripes!
Getting married in the spring can be beautiful, but you also have to be careful when it comes to rain, dust, and other elements in the Texas outdoors. Whether you're tying the knot at one of North Texas's many impressive venues, the Hill Country's beautiful landscapes, or even further away, have you considered the importance of cleaning your gown after the wedding?
Cleaning your gown properly, especially after a destination or outdoor wedding, can mean the difference between future generations being able to inherit your gown or not. That's because damage on your wedding day multiplies as years go on, especially if your gown isn't stored properly.
Lucky for you, if you live near Ft. Worth, Dallas, Arlington, Ridglea, Highland Park, Southlake, Westover, Denton, White Settlement, or TCU, you have door-to-door wedding gown EXPERTS at your service. Pinstripes Bridal is the only AWGS certified wedding cleaner and preserver in North Texas, and we even repair dresses that have tears or snags.
Delivery and Pickup Wedding Gown Cleaning AND REPAIR in Dallas/Ft. Worth
You'll have three keepsakes from your wedding day: your rings, your pictures, and your gown. For your wedding bands, you buy a box and cleaning kit. For your photos, you download them and frame them behind glass. How do you store your wedding gown? Do you want future generations to be able to wear it?
We get questions like this all the time at Pinstripes, and when you call 877-874-7377, we'll be happy to answer these questions and more! If you're in Richland Hills, Grand Prairie, DeSoto, Cedar Hill, Oak Cliff, Hurst/Euless/Bedford, or Grapevine, we can usually offer door-to-door service.
Cleaning and repairing a wedding gown properly isn't something your average dry cleaner might be able to do, because it requires special tools and attention to detail. First, we at Pinstripes treat every gown uniquely, making sure to pay careful attention to lace, beads, and fabrics. Then, we evaluate and remove both visible and invisible stains that can appear years later. Finally, we'll repair your gown if it suffered any damage from the dance floor or the getaway car.
Preserve your Wedding Gown for future generations in North Texas with Pinstripes Bridal
Did you know that Pinstripes sets itself apart by being North Texas's destination source for MuseumCare™ wedding gown preservation? When you preserve your wedding dress with Pinstripes in Pantego, Carrollton, Garland, or Farmers Branch, it means protecting your gown for generations to come.
Pinstripes' wedding gown preservation services include our previously detailed cleaning service, and with the added benefits of a muslin covering, protective gloves, and special instructions for ensuring the gown fabric will be in pristine condition for years to come.
So no matter what your gown cleaning, repair, or preservation needs may be, call Pinstripes Bridal today for door-to-door gown protection services. We serve Lake Worth, Irving, Benbrook, Allen, Plano, Weatherford, and Burleson too, and we can get started with a free consultation when you call 877-874-7377.