Quinceañera dress cleaning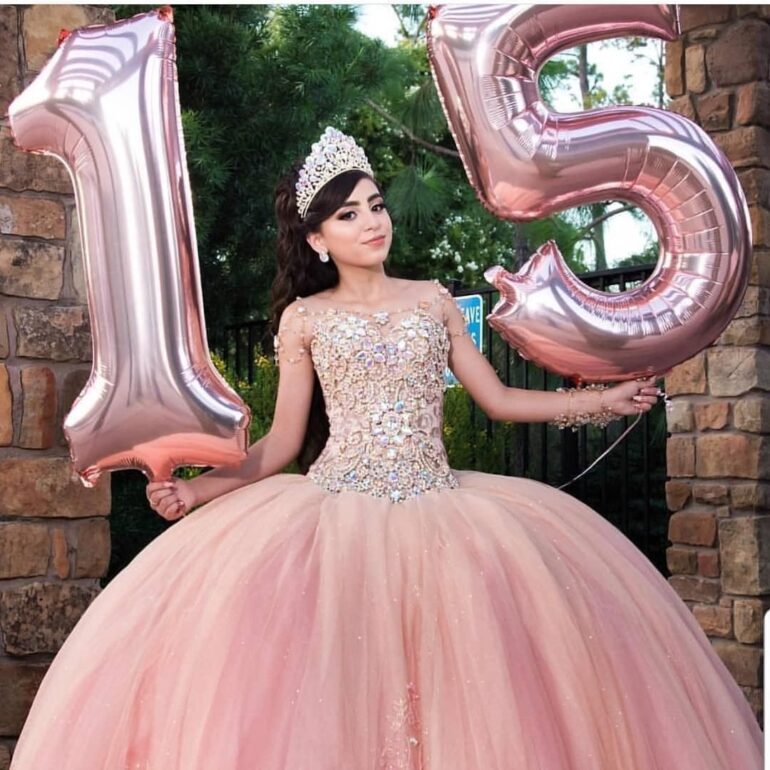 Can wedding gown cleaners do Quinceañera dresses too? At Pinstripes the answer is YES.
Celebrating a Quinceañera is a once-in-a-lifetime event for any young woman, and remembering that special occasion is something you want her to be able to do for years to come. No keepsake is so important as her Quinceañera dress, and that's why Pinstripes Bridal of Dallas/Ft. Worth is your best choice for Quinceañera gown cleaning.
There are so many stains, both visible and invisible, which can appear after a Quinceañera. Did you know that as many as half of the stains on the dress might not be visible until years later? Do you want a Quinceañera dress that can't be re-worn because of long-term damage like that?
It's time to ensure that your Quinceañera gown will last for years and generations to come. Call Pinstripes Bridal of North Texas for Quinceañera dress cleaning with pickup and delivery included in most cases. We're available to share our best price estimates with you when you call 877-874-7377.
Where to clean a Quinceañera gown in Tarrant County, Parker County, and North Texas
Cleaning a Quinceañera dress is cheap and easy in D/FW, and yours is no different. We'll provide a start-to-finish level of care when we clean your gown, and that starts with a detailed inspection of stains, lace, beads, and more, which includes a free quote for your approval before beginning work.
With so many Quinceañera parties in Dallas, Arlington, and Ft. Worth, it's a wonder that more young women don't choose to clean their gowns, especially when a company like Pinstripes can provide pickup and delivery services for no additional cost, in most cases. We've provided Quinceañera gown cleaning all across Allen, Plano, Grapevine, Benbrook, Irving, Garland, Grand Prairie, the Stockyards, and Frisco.
The most crucial part of any Quinceañera dress cleaning service is good quality. We want your dress to be in pristine condition for years and generations to come, and that's why we put as much care as we do into our work. When Pinstripes Bridal identifies and removes visible stains and invisible stains, it means having confidence in your Quinceañera gown looking as good as it did on your special day.
Pickup and Delivery Quinceañera Gown Cleaning by Pinstripes Bridal of D/FW
Trust the bridal company that AWGS experts have certified for our great work. And, take confidence in our many "Best of" awards from WeddingWire and TheKnot. When you call Pinstripes Bridal at 877-874-7377, we'll begin with pickup details and our complimentary pre-inspection. Then it's off to the races, and you'll hear from us as soon as we're ready to bring your dress back to your doorstep.
Pinstripes Bridal serves the entire D/FW metroplex, and in most cases provides delivery services at no added charge. If you're looking for Quinceañera gown cleaning in North Texas, Pinstripes is here to help, including Hurst/Euless/Bedford, Las Colinas, Aledo/Weatherford, and Richland Hills. We also provide Christening gown cleaning, uniform cleaning, and bridal gown cleaning and preservation.